Technological Milestones in Earnshaws History
---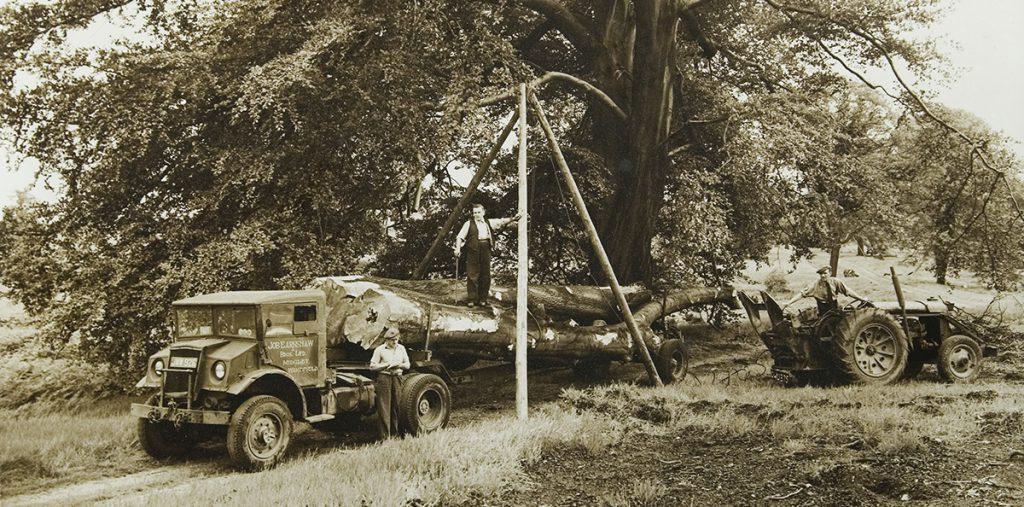 1880
By about 1880 more power became necessary to develop the Sawmill, and the charismatic old traction engine was replaced with the purchase of an upright boiler and small steam engine of a few HP to drive more saws.
1914
In 1914 the Directors met to consider the very serious question of investing in a motor car. They decided to buy a Ford car, a modest step which of course led to the eventual adoption of motor vehicles for all transport and carriage of timber.
1916
A compound horizontal engine of 80 HP, built by Bradley & Craven of Wakefield was bought from Marshall, Kaye & Marshall of Ravensthorpe in 1916. A reservoir was made for condensation purposes and a Brick chimney built. The engine gave a good reserve of power. A suction plant for burning sawdust was installed, and an acetylene plant for lighting the sheds and houses. This was eventually replaced by gas. The chimney became a feature of the Midgley skyline until it was demolished in the mid 60'sfollowing the change to electric power.
1923
In 1923 Earnshaws installed the third phone on the Horbury Exchange –Horbury 3. The first two being the Police and the Town Hall!
1939
Trouble with the hand crane in the Midgley Yard lead to consultations with the Yorkshire Electricity Power Co. to plan the electrification of the works and in 1939 this was gradually installed. The advantages of this power source radically improved productivity in many ways and quickly proved its worth.
1960
Mechanisation and especially the use of early chainsaws, fork lifts and Volvo loaders bring about radical changes to working practices and dramatic reduction in the time taken to fell and process a tree.
1970
Lorries with previously unimaginable payloads equipped with HIAB cranes streamline loading and improve transport efficiencies even further.
1990
Computerised control of processes in the saw mill make Earnshaws one of the most efficient in the country. Speed, economy and waste are all optimised as concern for scarce and natural resources climbs up the social and political agenda.
2010
Radical upgrade of the web site takes Earnshaws fully into the digital and on-line age.
2019
A brand-new web site is launched and a hugely improved broadband connection enables significant improvements in IT and EPOS