December in Your Garden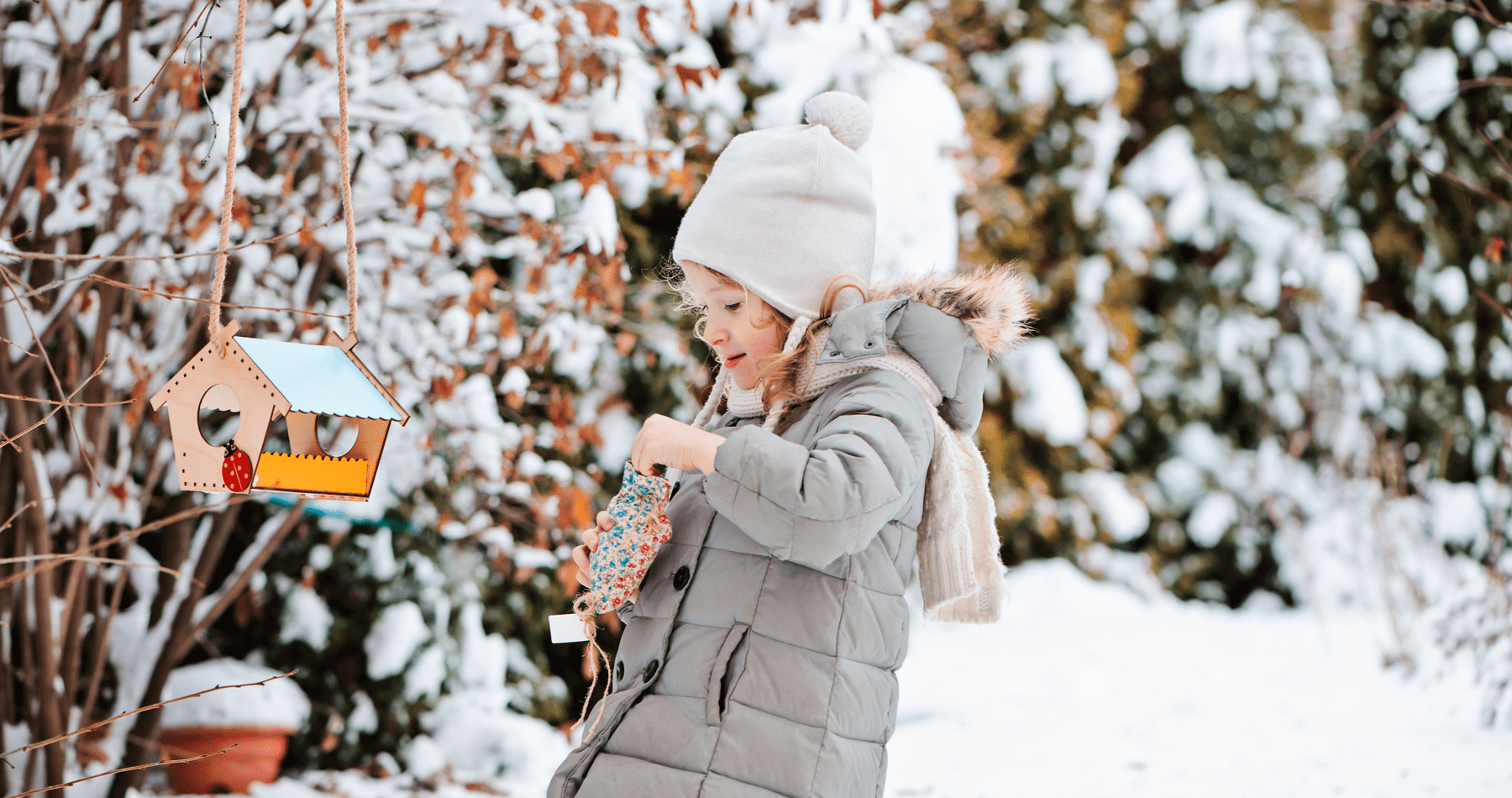 Here is our round-up of news, top tips and ideas for this month!
December is the month for enjoying log fires and hot chocolates but there's still lots to take care of in the garden!
Keep reading to discover our top tips for Christmas tree care and our December TV picks…

DECEMBER GARDEN CHECKLIST
Here are some important garden jobs for this month, to help maintain your garden throughout the cold winter weather!
• Clear faded perennials. This job should be left until as late as possible in December, but now is a great time for removing faded perennials. If you can, leave the debris in a pile in a quiet part of your garden as a place for insects to stay.
• Winter pruning. While many plants benefit from pruning, it's important to do so at the right time of year. During December, much of the garden is dormant, and roses, deciduous shrubs, grapevines, wisteria, fruit bushes, and deciduous ornamental trees all benefit from being cut back and trained. Be sure to use a pair of sharp secatuers.
• Plant bulbs. Plant any remaining spring bulbs in pots and gaps in borders, ensuring the holes are three times as deep as the bulbs. Tulips, daffodils and grape hyacinths can all be planted now.
• Create beautiful hanging baskets. Pansies, trailing ivy, and primroses can all be planting into hanging baskets to create colourful displays around your home.
• Add netting where necessary. Protect your winter crops, such as kale, from birds by covering them with netting.
• Keep lawns leaf-free. Grass needs as much light as possible at this time of year, as well as good air circulation. Therefore, regularly raking lawns to remove leaves will keep the grass in much better condition.
• Plant trees and shrubs. October to April is the best time for planting trees and shrubs. Dig a hole that is no deeper than the roots but three times the diameter. Soak bare root trees or shrubs for about 30 minutes before planting.
• Provide an unfrozen water source for wildlife. Throughout the winter months it can be difficult for wildlife to find water that hasn't been impacted by the freezing temperatures. Keep checking your bird baths, ponds, and other water sources. Discover our bird care range here.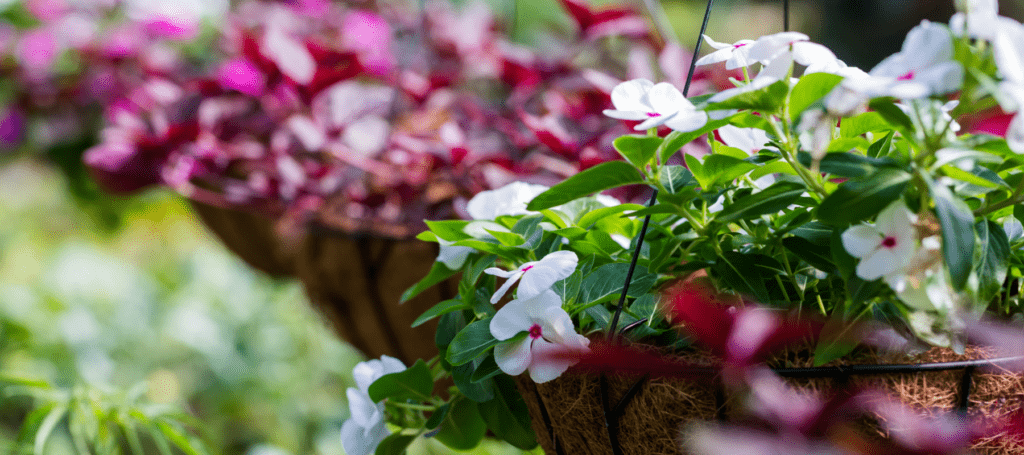 WHAT TO SOW, GROW AND HARVEST THIS MONTH
• Plant garlic. Plant garlic now for it to be ready in July. Ideally, select a UK variety that is suited to our climate, such as 'Solent Wight'. Split the garlic bulbs into cloves, and plant in a sunny area with free-draining soil, spacing them 20cm apart and planting each clove 10cm deep.
• Plant cabbages indoors. Sow cabbage seeds in modular trays, before planting out in spring, choosing a sunny spot.
• Plant rhubarb. Find a sunny spot with good drainage to plant rhubarb outside now. Rhubarb will rot if kept in an area that is regularly sodden.
• Plant onions indoors. Sow onions indoor until February, before planting out. Don't water after midsummer as this will hinder their ability to mature and be stored well.
• Plant broad beans. Sow indoors until March, then plant outside in free-draining soil, with plenty of garden compost or manure dug in.
• Harvest broccoli. Cut the main heads of broccoli now, to allow the plant to produce smaller heads. Using a sharp pair of secatuers will stimulate the production of sideshoots, allowing another month or so worth of harvest. Remove damaged leaves to improve air circulation.
• Harvest mustard greens. Many varieties of mustard greens will be ready to harvest as baby greens after 20-30 days. However, to harvest mature mustard greens, pull of the outermost leaves without damaging the growing point, and enjoy many more weeks of harvest.
• Harvest cabbages. Cabbages can be harvested as well as sown this month. Generally taking between 4 and 6 months to reach maturity, harvest winter cabbages once they have formed a firm head, cutting the stem just above ground level.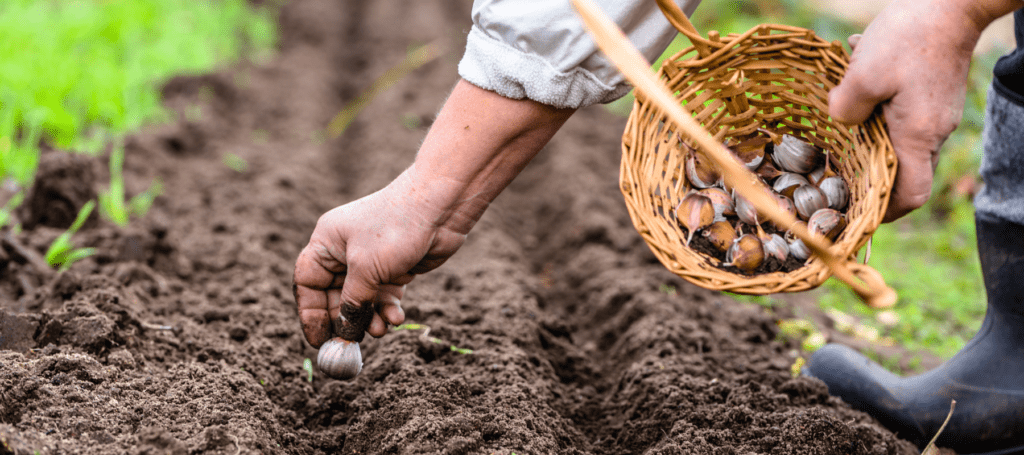 CARING FOR YOUR CHRISTMAS TREE
Here are some top tips for taking care of your Christmas tree…
• Preparation is key. Once your tree is home, place it on a flat surface and cut the netting around the trunk. Cut a few centimetres off the bottom of the trunk, keeping the base as flat as possible so it is easier to keep upright in the tree stand. Put the tree into a bucket of water, ideally for at least a couple of hours, to allow it to take up as much water as possible until you are ready to set it up inside.
• What to do once inside. Until you are ready to decorate, it is best to keep your tree in a cool place. Secure the tree in a stand that is large enough so that you do not have to remove chunks of bark from the bottom of the trunk, as this impacts the tree's ability to take up water.
• After Christmas. Many local councils offer a Christmas tree recycling scheme, which can even mean that they will pick it up from your house! Alternatively, turn your tree into useful mulch: chop smaller branches into pieces and add to your compost heap to decompose, or shred the entire tree and leave the wood chips to rot down. The final option is to the cut the tree up and create a log pile in your garden for wildlife, which will eventually rot down.
Choosing Your Perfect Tree
Spectacular Nordmann Fir and Norway Spruce Christmas trees are now available to purchase from our Midgley centre.
Click here to find out which species of tree is right for your home or take a look here at our guide to choosing your perfect tree!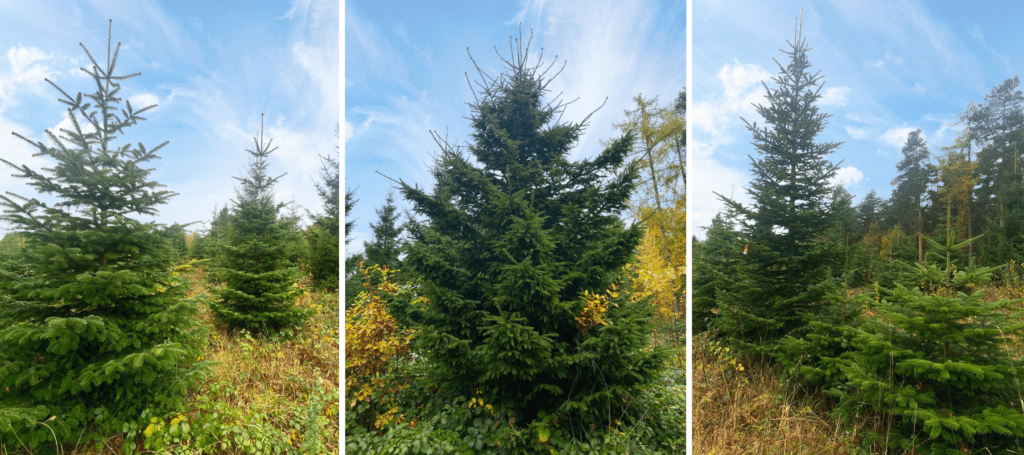 STORE AND BURN FIREWOOD WITH CONFIDENCE
With new government regulations in place, domestic firewood usage has changed. Now, firewood must be seasoned until it has a moisture level of 20% or below prior to burning. Moisture level meters, such as the Manor Moisture Meter which is now available from each of our centres, allow you to burn your firewood with confidence.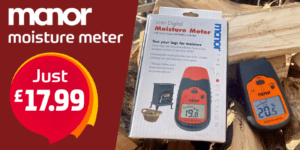 We've been busy cutting and splitting our hardwood and softwood logs, giving them plenty of time to season to ensure they are as efficient as possible when burning. To continue seasoning your firewood at home, our high-quality timber log stores offer the perfect storage solution!
However, not everyone has the space nor the time to season their own logs. That's why we have a large stock of kiln dried logs at all of our centres, ready for immediate burning.
With an Earnshaws Loyalty Card, you can take advantage of our special offer of 10 bags for £65.00 – usually £7.99 each!
Visit any of our centres to stock up on firewood, kindling, and fireside accessories, or have a transit loose load of hardwood or softwood logs delivered to your home from our Midgley centre!
Click here to view our Midgley firewood delivery zones.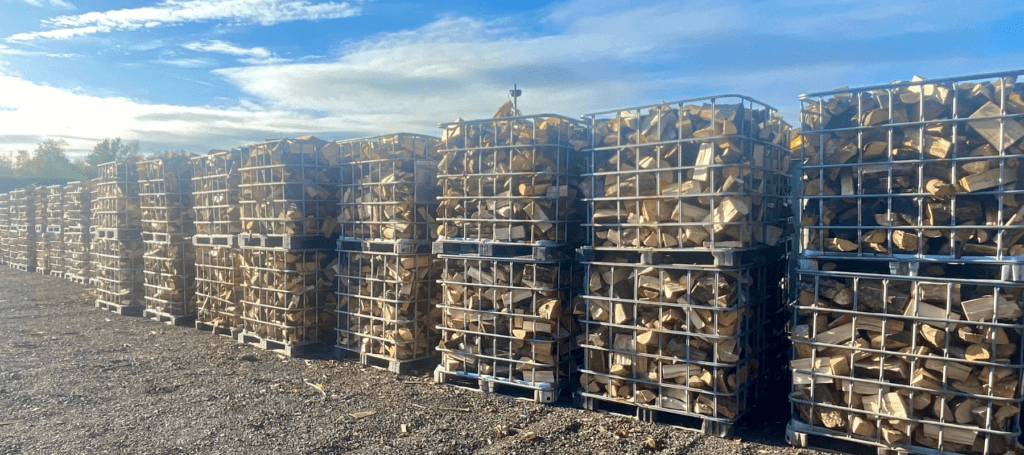 GROW CHRISTMAS CROPS FOR NEXT YEAR!
Growing the various elements of the perfect Christmas dinner in your own garden is achievable no matter how little space you have. Planting slow-growing crops throughout 2022 will mean that they'll be perfect in time for Christmas!
Potatoes
Potatoes can be grown in containers, making them ideal for smaller spaces. Good Christmas varieties include Maris Peers, Charlotte, and Duke of York. They will take about 12 weeks to become mature enough to harvest, so August is a good time to plant.
Leek
Most parsnip varieties, such as Palace F1, should be grown between February and May, once the weather has warmed up slightly, for harvest between October and Christmas Day. Sow the seeds 15cm apart and 2cm deep, in rows that have 30cm between them.
Store in a cool, dark, well ventilated environment, or keep them stored in the ground where they were grown but add horticultural fleece for protection from frost.
Parsnips
For a Christmas harvest, sow parsnip seeds between mid-March and mid-April into a deep container or seed bed. When harvesting, gently lift using a hand fork.
Sage
This aromatic herb is a Christmas must-have. It can be grown from seeds, by sowing them into small pots and adding a layer of permite, which improves aeration and promotes quicker germination. Sow the seeds around April to guarantee a strong-smelling plant in time for Christmas. Water regularly but do not overwater.
Cranberries
Another Christmas staple, create the perfect homemade cranberry sauce by ideally using rooted seedlings and planting one cutting per square foot. They prefer acidic soil so it's best to water with rainwater. Pick the fruits around October, leaving plenty of time to create a delicious cranberry sauce!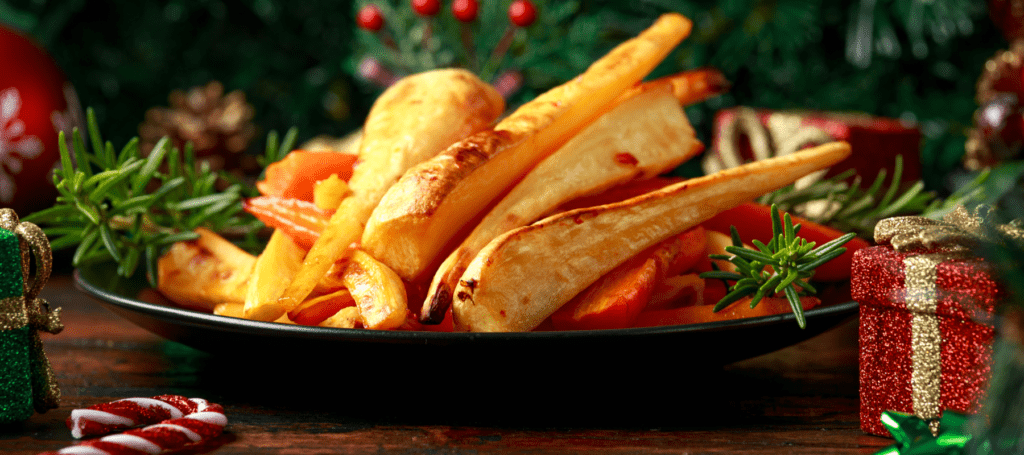 NEWS
Carbon Calculator for Your Garden Tools
Battery-powered garden tool manufacturer, EGO, has created an online carbon calculator that allows you to work out the carbon footprint of your petrol-powered tools.
Click here to use the calculator.

RHS Community Awards 2021!
In place of an in-person Britain in Bloom Finals Tour, the RHS created the Community Awards, which invited previous Britain in Bloom competitors to represent their regions by sharing their stories and projects digitally.
Click here to find out more about this year's contestants and to discover your local Britain in Bloom group and get involved!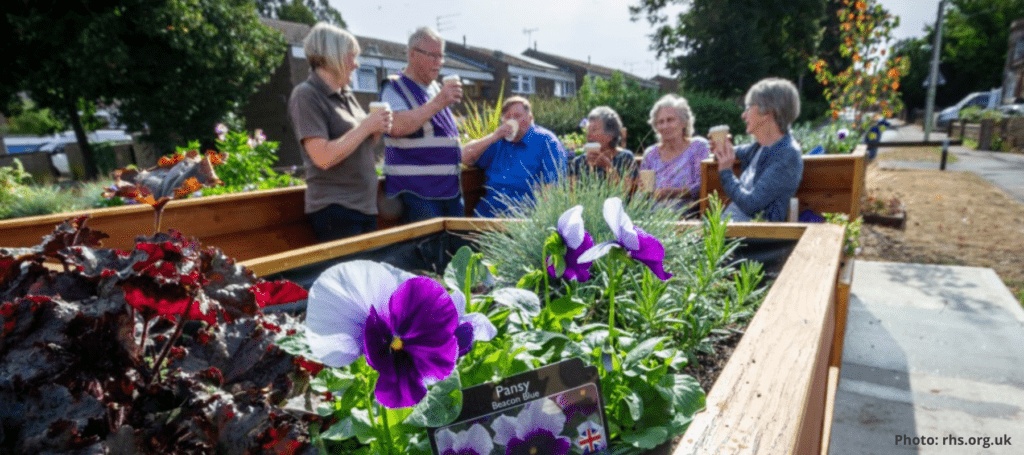 MUST-SEE TV:
Gardeners' World Winter Specials
Each of the three specials will show new and unseen footage, featuring a number of special guests. Broadcasting on consecutive Fridays throughout December (10th, 17th and 24th), the series will be a celebration of gardening throughout the seasons!
Find out more here.

GARDENING BOOK CLUB:
The Flower Hunter: Seasonal flowers inspired by nature and gathered from the garden
Published just recently, in November 2021, Lucy Hunter combines the worlds of gardening and art. Utilising flowers from her own garden in her works of art, she encourages the reader to embrace their own creativity through a variety of projects, including floral wreath-making.
Find out more here.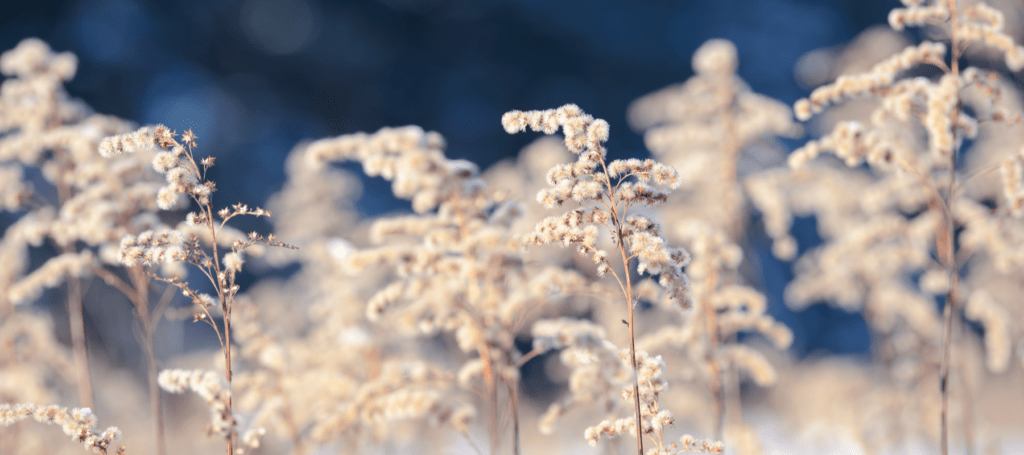 FINAL WORD
"The colour of springtime is in the flowers; the colour of winter is in the imagination."
– Terri Guillemets
Quotation anthologist

Stay safe,
From all the team at Earnshaws.
---
Posted by Earnshaws on 01-Dec-2021