Love a wood-burning stove? You will love our firewood and logs!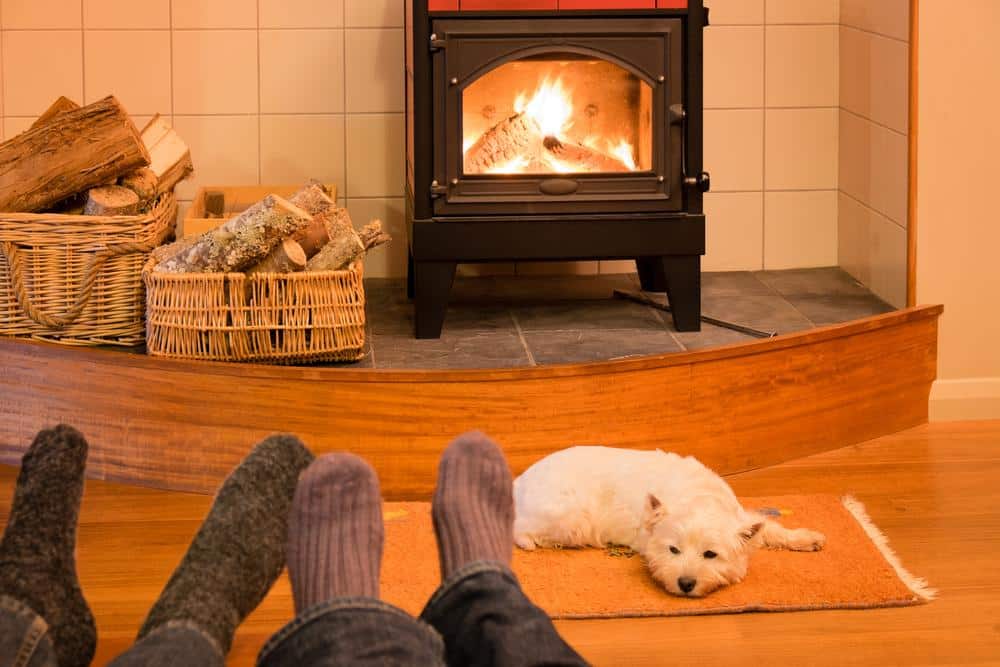 Now we are in the depths of winter, the welcoming glow and crackle of logs burning in the hearth seem very appealing indeed. If you are thinking of buying your own wood-burning stove we have some handy tips and advice for you.
In addition to being a beautiful feature and focal point of your living room (which may add as much as 5% to your home's value), a wood-burning stove actually has a smaller carbon footprint than a lot of other energy sources, and it could help you save over 50% on your winter heating bills!
Once you have installed your real fire or stove we have all the logs, kindling, firelighters, log stores and fireside accessories you will need. Here are some tips to consider:
Which wood burns best?
Seasoned hardwood log fuel – such as ash, beech and oak – is the best choice for making your stove a roaring success! And here's why… It is 50% denser than softwood – therefore it'll give you a longer-lasting burn, take up less storage room and you'll get more fuel for your money when buying in bulk!
Most stove manufacturers recommend only using seasoned hardwood – by definition, that's wood that has been taken down to a moisture content of 25% or less and has been cut and air dried for two summers. This is because excess moisture will produce steam – or even tar from the logs, which can damage the stove's lining.
Traditional or contemporary?
Interior design trends can be unpredictable – do you prefer the homely, traditional feel of a cast iron stove or is a sleeker, welded steel model more in tune with your décor? With so many quality stove manufacturers out there on the market, we have access to a huge range in design and features nowadays.
And whilst being spoilt for choice is a nice position to be in, it can sometimes lead to confusion! Take a look around the room – complementary furniture, such as lamps, mirrors, and colour accents, will help to enhance your stove's beauty – and assist you in deciding which look to go for.
Kilowatt output
In broad terms, the higher the kilowatt output, the more heat you will get from your wood-burning stove. This is a guideline, and may vary in direct relation to how much you will use the stove and the type of wood you choose. In order to comply with HETAS regulations, if you decide on a stove that has an output of over 5 kilowatts, you must have a permanent air supply to the room in question.
You can get a general idea of what you'll require in terms of heat output, measure the space in cubic metres (L x W x H) and divide this figure by 14 to reveal a rough estimate of the kilowatt (kW) output you'll need to stay warm and cosy.
Seek advice
Do you want to heat just one room, or link it to your home's central heating system? How do you maintain your stove and keep it working to its potential? It's crucial to do your homework and shop around before you buy – most manufacturers and retailers will be delighted to answer any questions that you have and help you to make an informed choice on what's best for your personal requirements.
Keep a look out for the 'CE' mark – this will ensure that your stove meets all the European safety and efficiency requirements for the UK.
And, in order to comply with UK building regulations, you're going to need an accredited HETAS installation engineer to fit the stove and flue. We suggest that you liaise fully with them on the details of your purchase prior to getting their quotation – this avoids any extra (and unnecessary) costs, hassle and stress.
Finally, we strongly recommend that you check to see if you live in a Defra UK Smoke Control Area (check your status here), as this may limit the choice of stoves available to you – check whether the product you're interested in carries a Defra exemption certificate.
We're here to help!
Our Firewood Centre at Midgley is stocked with everything from kindling and firelighters, hardwood and softwood logs to solid fuels – and as always, we have huge stocks on site, either loose or ready bagged. You are welcome to collect it personally or we have a delivery service for larger loads. And to complete the picture, we have a fantastic range of stylish contemporary and traditional fireside accessories including fireguards, pokers, shovels, log baskets and coal scuttles – many make perfect gifts for yourself or a loved one!
---
Posted by Earnshaws on 11-Jan-2018