Ancient trees found within grounds of Yorkshire stately home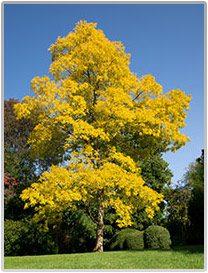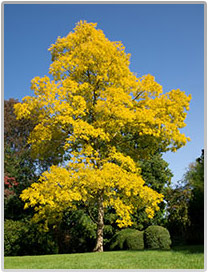 Some of the tallest, largest and rarest trees in the country have been found growing in the grounds of Goldsborough Hall, near Knaresborough, North Yorkshire.
An ancient false acacia, a pair of purple-leaved plums and a rare whitebeam have all been officially recorded as British 'champions' by national charity the Tree Register.
Charity director and tree expert David Alderman confirmed that the false acacia (robinia pseudoacacia), which dates back to 1706, is currently the oldest recorded in Yorkshire and has the largest 'multi-stem' girth for its species in Britain.
The whitebeam is in fact a sorbus latifolia, and at 21m in height currently the tallest of its kind in Britain, while the two intertwined plum trees are prunus cerasifera 'Pissardii' and have the largest multi-stem girth for the species ever recorded in Britain.
A Turner's oak (quercus x turneri 'Pseudoturneri') that grows close to the purple-leaved plums, is the Yorkshire champion for girth.
Champion trees are noted for their height, girth and age, with British champions the rarest.
Goldsborough Hall's formal landscaped gardens date back to the 1750s, and were arranged in the style of Capability Brown. A Lime Tree Walk located at the rear of the Jacobean period home was begun in 1922 with the first tree planted by Princess Mary and her husband Viscount Lascelles.
The remaining 33 trees were planted by various members of the Royal family in the 1920s, including King George V and Queen Mary.
Other royal trees in the gardens include a copse of Japanese cherry trees given to Princess Mary by the Emperor of Japan.
David Alderman, who measured and verified the champion trees, said: "Typically in the world of champion trees, confirming their status is not always straightforward.
"Leaf samples confirm the whitebeam is a sorbus latifolia, also known as the Service Tree of Fontainebleau. It has two very large stems and is currently the tallest in Britain.
"The two old surviving purple-leaved plums have the biggest girth recorded in Britain for a multi-stem, as does the false acacia. These are most certainly some of the oldest specimens of their kind."
Also discovered in the hall's grounds were an ancient holly dating from around 1750 and a giant horse chestnut dating from 1800.
Earnshaws Fencing Centres Director, Peter Earnshaw commented: "We may not have any trees quite as old as these but our Woodland Walk features a spectacular holly of our own".
---
Posted by Earnshaws on 08-Apr-2014