Garden Centre or Fencing Centre?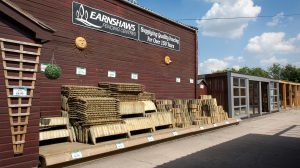 What's the difference between a garden centre and a fencing centre?
No two garden centres are exactly the same, and of course no two fencing centres are the same. However at Earnshaws we often find that people are surprised to discover just how extensive our ranges of fencing, garden furniture, garden gates and garden sheds are. After all, with the exception of timber fencing these are products more often associated with garden centres.
Everything except the plants!
There are three Earnshaws Fencing Centres. The first fencing centre was opened at Midgley between Huddersfield, Wakefield and Barnsley from where we serve West Yorkshire towns including Holmfirth, Dewsbury, Horbury, Ossett and the villages of Honley, Denby Dale and Skelmanthorpe. The next fencing centre was opened at Brigg in North Lincolnshire from where we serve Grimsby, Gainsborough and Scunthorpe. Our third fencing centre was originally known as Wentworth Sawmills and is part of the heritage village between Barnsley and Rotherham and from where we serve customers as far afield as Penistone, Stocksbridge and Sheffield. One of the key differences between all the three branches of Earnshaws Fencing Centres and some of the garden centres in the areas we serve is that we leave the plants, trees and seedlings to the garden centres whilst we concentrate on the natural timber products that we have been developing and selling for six generations.
Garden landscaping – helping customers enjoy their gardens
Earnshaws began life as a commercial saw mill, based close to our HQ in Midgley, so it was only natural that when we began to serve a retail customer base we focussed on landscaping products for garden designs and a range of garden furniture, sheds, cabins, gates, decking and accessories to help people make the most of their gardens.
A more specialised range of products
This focus on a specialised range of carefully selected products, which also includes pergolas, arbours, rose arches, pots, planters and ornaments is one difference between a garden centre and a fencing centre. By concentrating on a range of practical products we are able to offer expert advice and all the fittings, fixings, screws, ropes and tools that our customers need to fit, erect and install their latest projects, whether its timber decking or putting up a new garden shed. This is a key difference between a garden centre and a fencing centre.
We also offer both a delivery and installation service to customers who don't have the necessary vehicles to cope, or the skills needed to put up a garden gate or a run of fencing on their own. The key point of difference here is that we use our own vehicles for delivery within our delivery zones and we are always able to offer helpful advice and tips.
Bespoke products and architectural timber
At Earnshaws Fencing Centre in Wakefield we offer sawn timber and planed timber from our own saw mill and we can design and make bespoke products for architectural projects – in particular oak beams and roof trusses. In fact we provided the beams used in the café/restaurant at Blacker Hall Farm. This is another example of a service that as a fencing centre with a sawmill we can offer but which a garden centre may not be able to provide.
Other Services Unique to Fencing Centres
Maybe because many fencing centres grew out of sawmills and trade outlets in rural locations they can offer agricultural fencing and equine fencing and poles – another point of difference with garden centres who often concentrate solely on products for domestic gardens.
Try asking your local nursery or garden centre to fence off a paddock or design a small field shelter and stable block! For agricultural customers we can provide wire fencing, post and rail fencing and we are also able to supply and plant hedges to form a living boundary.
To complete this range of unusual services we offer estate forestry management and tree surgery for customers with larger grounds.
Huge Stocks for Collection or Delivery
Unlike many garden centres that often only have a single display unit on site, our fencing centres carry large stocks. This means our customers can drive in and take away what they need, enabling them to start any fencing project immediately. For even bigger loads we will arrange delivery – usually within a few days.
Add this facility to the easy access and loads of free parking and its easy to see why people choose to come to a fencing centre like Earnshaws, rather than a garden centre, when they are tackling a serious garden landscaping project.
Horses for Courses
We hope this piece has been helpful in explaining the differences between garden centres and fencing centres. There is no doubt that if you are looking for a lawn mower, gardening books or seedlings and plants then a garden centre or a nursery will fit the bill. But if its timber based products from a sustainable source, landscaping to re design your garden or help and advice on the right kind of fencing then a fencing centre should be your first point of call. After all the clue is in the name!
---
Posted by Earnshaws on 03-Feb-2015